-as he explores the similarities of solitary confinement and surviving a cancer diagnosis
In an exclusive interview, humanitarian and author, Terry Waite MBE, CBE, revealed how he drew on his inner strength to survive almost five years in captivity.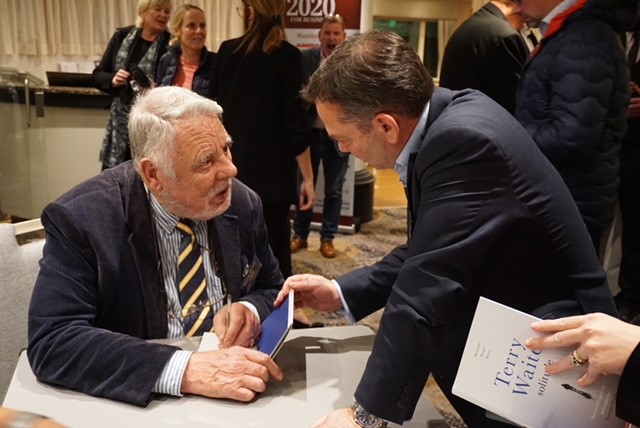 The WP2020 for Business event, hosted by Weston Park Cancer Charity, saw the former envoy to the Archbishop of Canterbury – who was taken hostage in Beirut in 1987 – reveal the inspiration behind his first book: Taken on Trust, despite being detained in solitary confinement, and not being granted access to a pen or paper.
He also spoke about the importance of mental motivation, as a tool to overcome some of the most harrowing ordeals.
Even though he was held hostage for almost half a decade, Waite spoke calmly and openly about his encounters: "We live in a world of suffering. No-one is excluded. Though some people, undoubtedly – through no fault of their own – suffer more than others.
"Being captured is not too dissimilar to battling a severe illness – like cancer; how often we see people fighting relentless diseases, and yet, somehow, they can still live in the present, and be extant for themselves and other people.
"In times of hardship, we should look on those people and say to ourselves: don't give in, we must live for 'now'.
"That is not to say you should not make proper provisions for the future – because you should, but at the same time, remember that now – this very moment – is your life; live it fully, it's your world, and though tomorrow is not promised, suffering need not destroy it."
Speaking of the interview, Clinical Oncologist, Jonathan Wadsley said: "What an inspirational interview. I was particularly moved by the parallels Terry drew between his captivity and the day to day uncertainty and challenges our terminally ill patients face, as well as the vital importance of emotional support."
Earlier the same day, Terry generously spent time meeting patients and staff at Weston Park Hospital, to learn more about their experiences of cancer treatment and the care provided at the region's only specialist cancer centre.
"During my visit to Weston Park Hospital, I witnessed first-hand the pivotal work and care the hospital and staff deliver. We do ourselves a disservice when we play down vocation, and say: "It's just a job", because there is more to life than 'just a job'. Our healthcare professionals are more than deserving of our respect and support, and I would encourage everyone to back this worthy cause, because on our behalf, they demonstrate the love and compassion which in itself, lies at the heart and centre of life."
Samantha Dixon, CEO of Weston Park Cancer Charity commented: "We were absolutely delighted to welcome Terry Waite MBE, CBE to the latest WP2020 for Business event in aid of Weston Park Hospital. He shared some very humbling meditations."
The event, which was generously supported by Vine Hotels, was open to WP2020 for Business members who invest in the pioneering research which takes place at Weston Park Hospital.