If the festive season saw you become engaged, you'll no doubt be thinking about how the big days should look. And you can't go far wrong with the roaring twenties for a wedding theme. It's distinctive style, sophistication and most importantly, a hedonistic abundance of fun. It is a trend that the wedding planners at leading Sheffield wedding venue, the DoubleTree by Hilton Sheffield Park, are noticing has really taken off. And heading into 2022, it's set to become THE wedding trend of the year. Read on for 1920s wedding ideas and inspiration from the DoubleTree by Hilton Sheffield Park team of wedding planners.
"As it stands all of our weddings are due to go ahead next year," explains Micheal, wedding planner at the venue. "Let's not forget that many of these are couples that have had to reschedule their weddings once, even twice. They're ready to let their hair down and just have fun.
"The 1920s wedding theme is ideal for those who want a classic mix of dancing, decadent décor and of course that glamour and sophistication that the era was renowned for. You can also have lots of fun within the theme. For instance, we've a large event space at the Double Tree by Hilton Sheffield Park that's ideal for weddings and it's one that we're currently transforming to include a hidden speakeasy bar for one couple. When the timing is right, we'll invite groups of guests to enjoy a range of specially created 'underground' bootlegger cocktails while the rest of the guests party outside unaware of our hidden venue within a venue."
"The idea is to have the 'entrance' hidden as they were in the days of prohibition – a phone box, a laundrette, or the rest rooms would all be brilliant options. Then we'll be decking it out with vintage furniture and serving up some stellar cocktails to boot."
Here, Micheal shares some more 1920s wedding ideas covering everything from 1920s wedding décor, 1920s wedding cakes and dresses to 1920s wedding entertainment.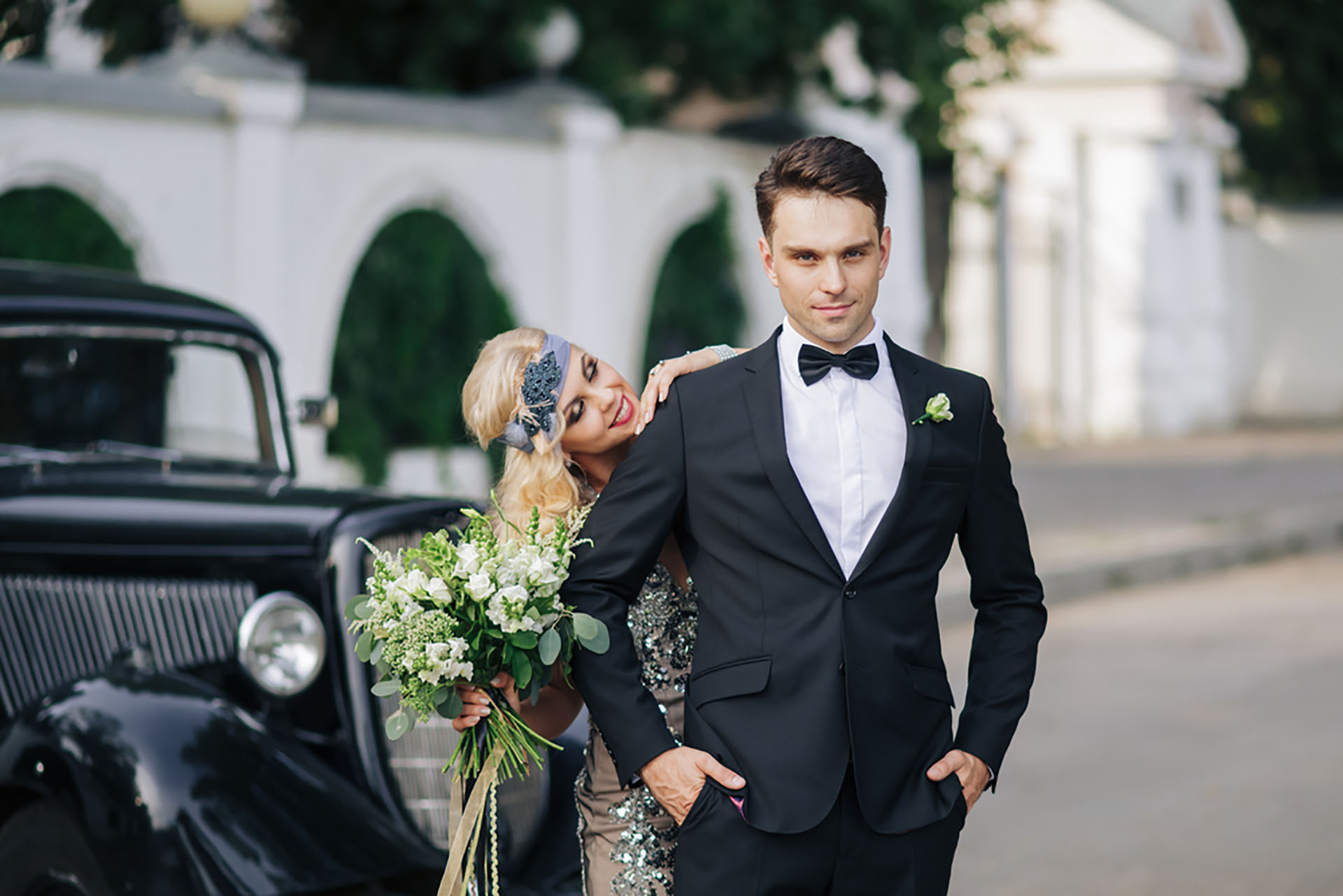 1920S WEDDING DÉCOR
Dark and decadent décor was typical of the 1920s. When bars and clubs went underground during the prohibition era, dark wood, gilding, and dim lighting set the mood, but with glamourous touches too – velvet, silk, feathers and that instantly recognisable art deco style. Blacks, smoky greys, white and gold are classic 1920s colourways – you can bring in rich jewel tones too – emerald green and ruby red.
A simple step like upgrading white table linens to something fabulous like sequins or velvet will instantly transform your décor. You could include low hanging chandeliers with tasselling over the tables too. Always include vintage glassware; champagne saucers are a must.
We've seen gorgeous table centres at our 1920s weddings that include pearls, faux ostrich feathers, fans, and palm leaves. All very reminiscent of 1920s wedding decor. Ornate mirrors look gorgeous too. Use just one and write out your table plan on it or include a series of smaller mirrors to use as your table numbers.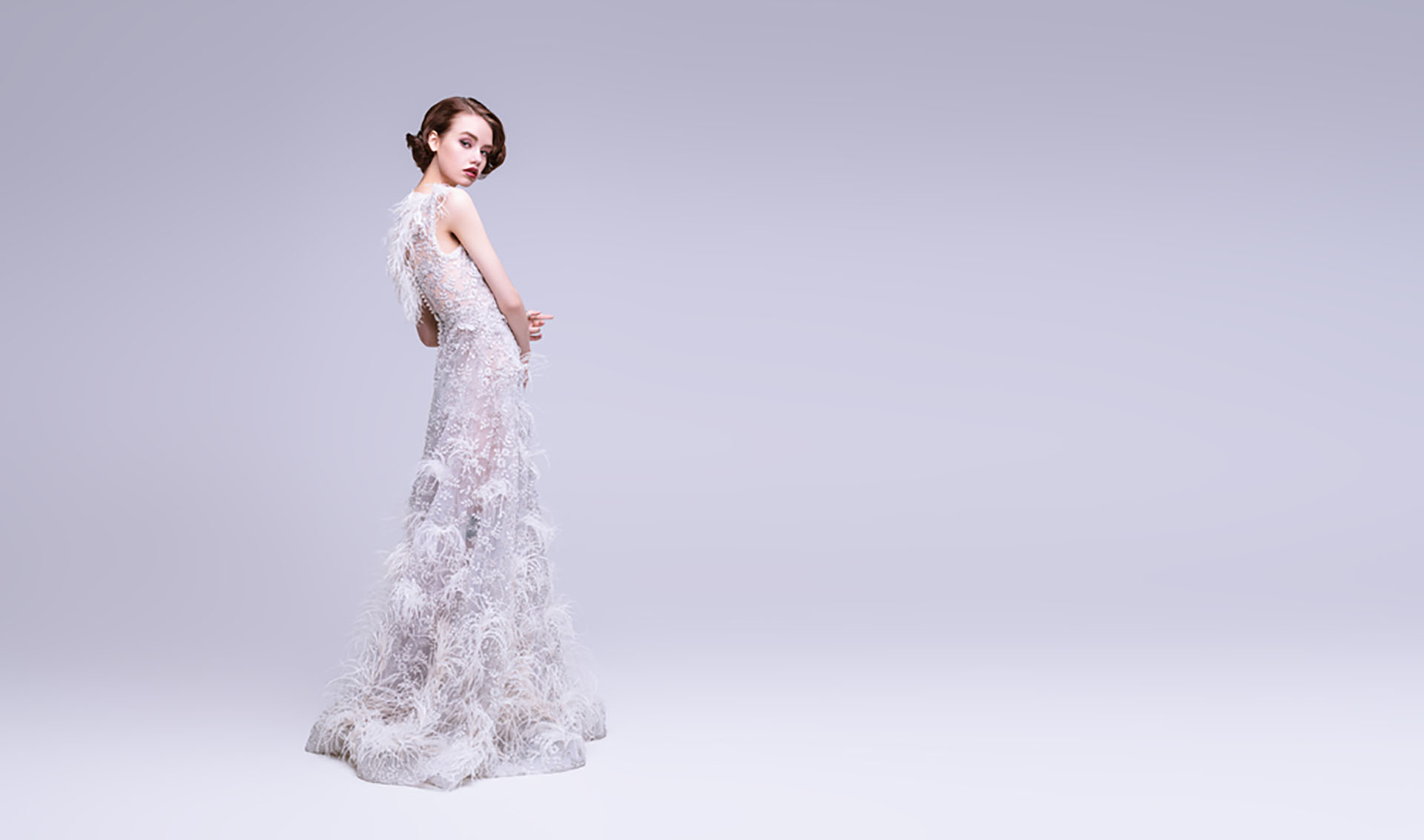 1920S WEDDING DRESSES
Depending on the time of year, for a wedding gown my own take on a 1920s wedding dress would bring in a fuller skirt featuring glamorous feathers for that Hollywood style and sophistication. Sequins and embellishments look amazing too. Channelling 1920s fashion and will catch the light beautifully.
For bridesmaids, take inspiration from the flapper dresses of the era, with tassels, sequins, feathers. Or whichever other detailed embellishments take your fancy. Drop the waistline and raise the hem, and give your girls a dress that they can dance the night away in.
For the male bridal party, it's dapper three-piece suits. If it's a winter wedding, then opting for a heavier fabric like tweed or herringbone will make it more authentic.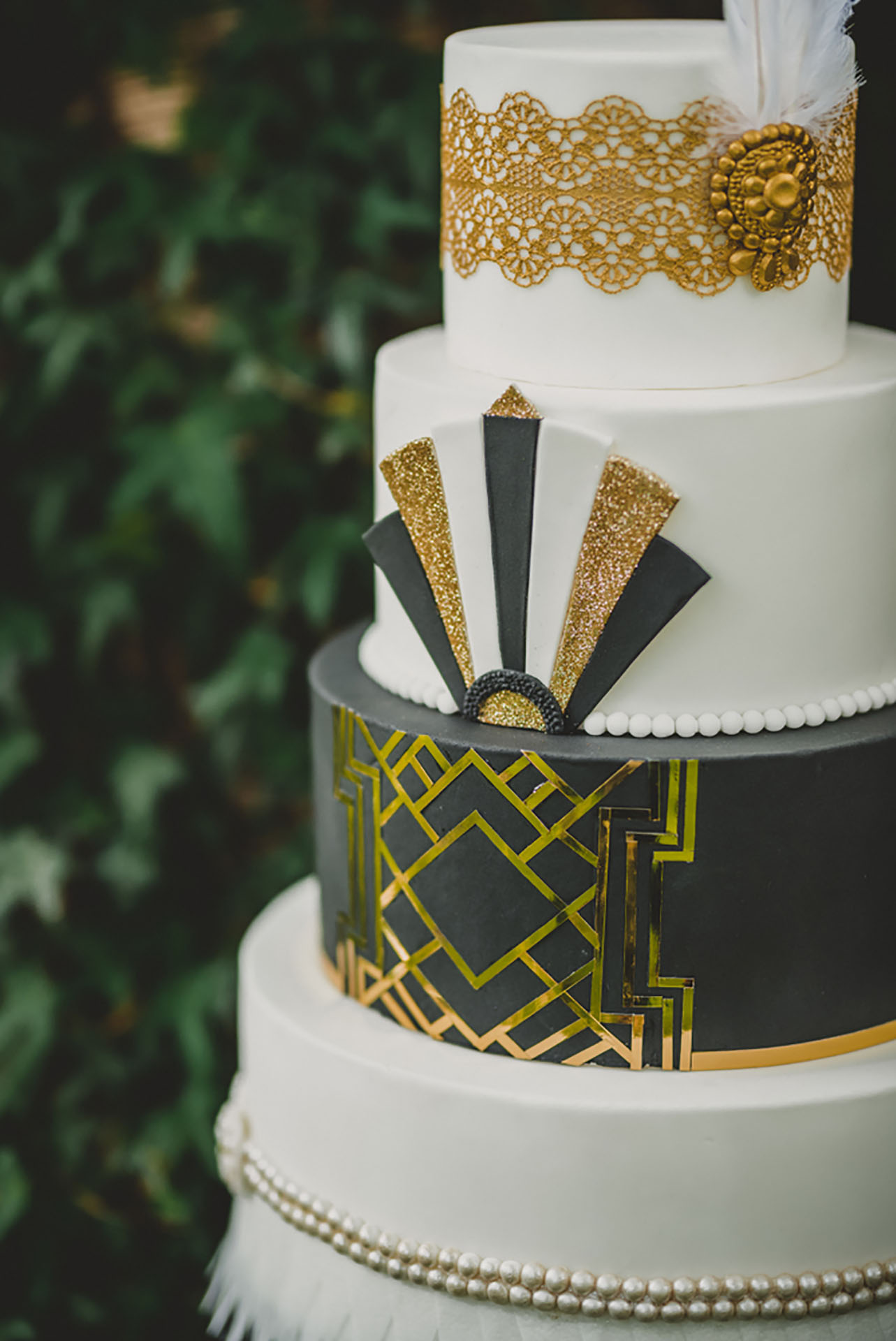 1920S WEDDING CAKES
Again, we've seen some truly beautiful 1920s wedding cakes featuring all the motifs of the era with weddings at the Double Tree by Hilton Sheffield Park. Black and gold icing looks simply stunning, especially incorporating the art deco patterns the period was known for. Go large again, for your 1920s wedding cake, a single tier isn't going to cut it.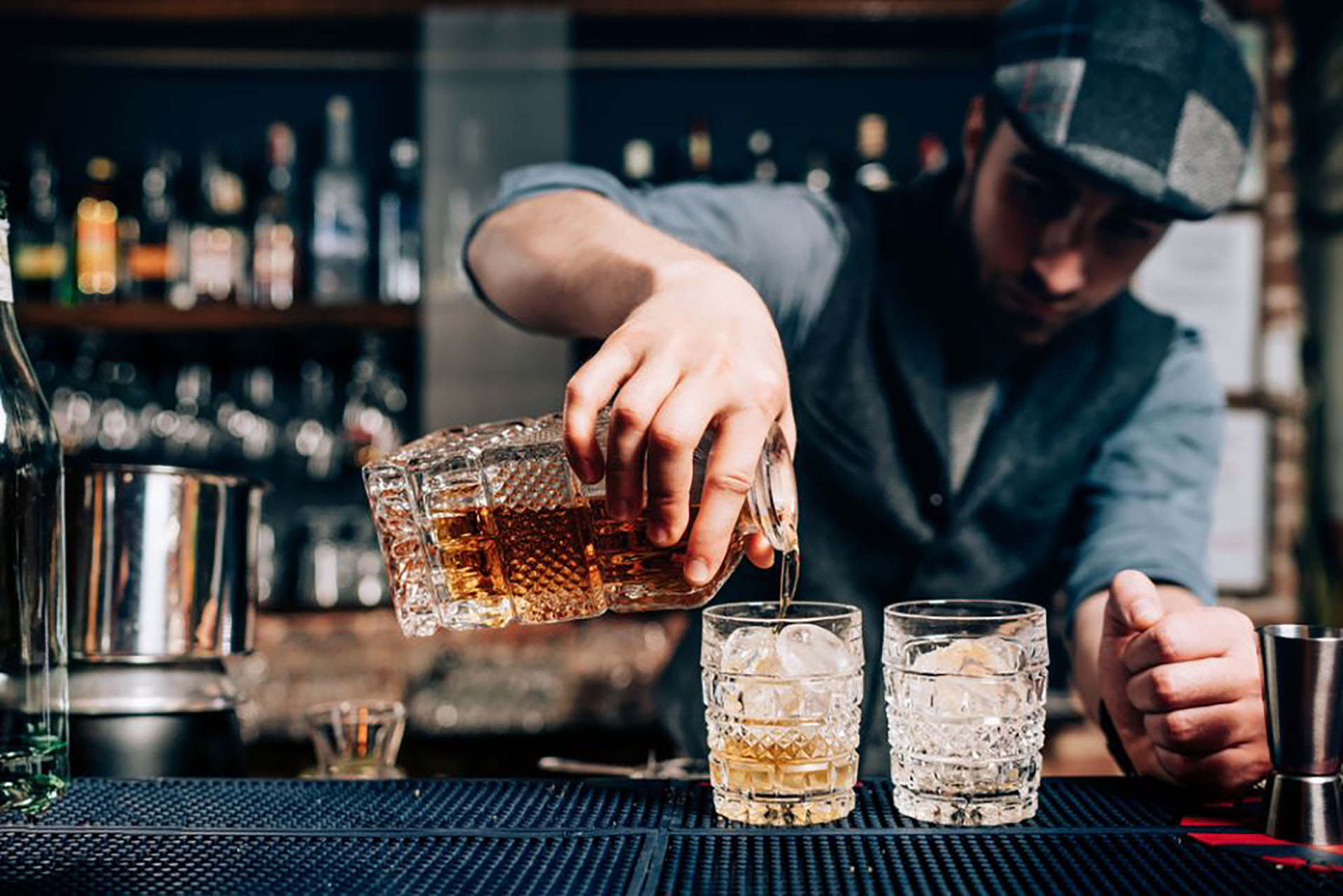 1920S WEDDING ENTERTAINMENT
For a real 1920s wedding you need to dance the night away. The music of choice? Jazz of course! Soft and easy on the ear as a background music during dinner then crank up the party with some big band classics. You could also bring in some seated entertainment, cabaret style, such as acrobats and spectacular dancing flapper girls.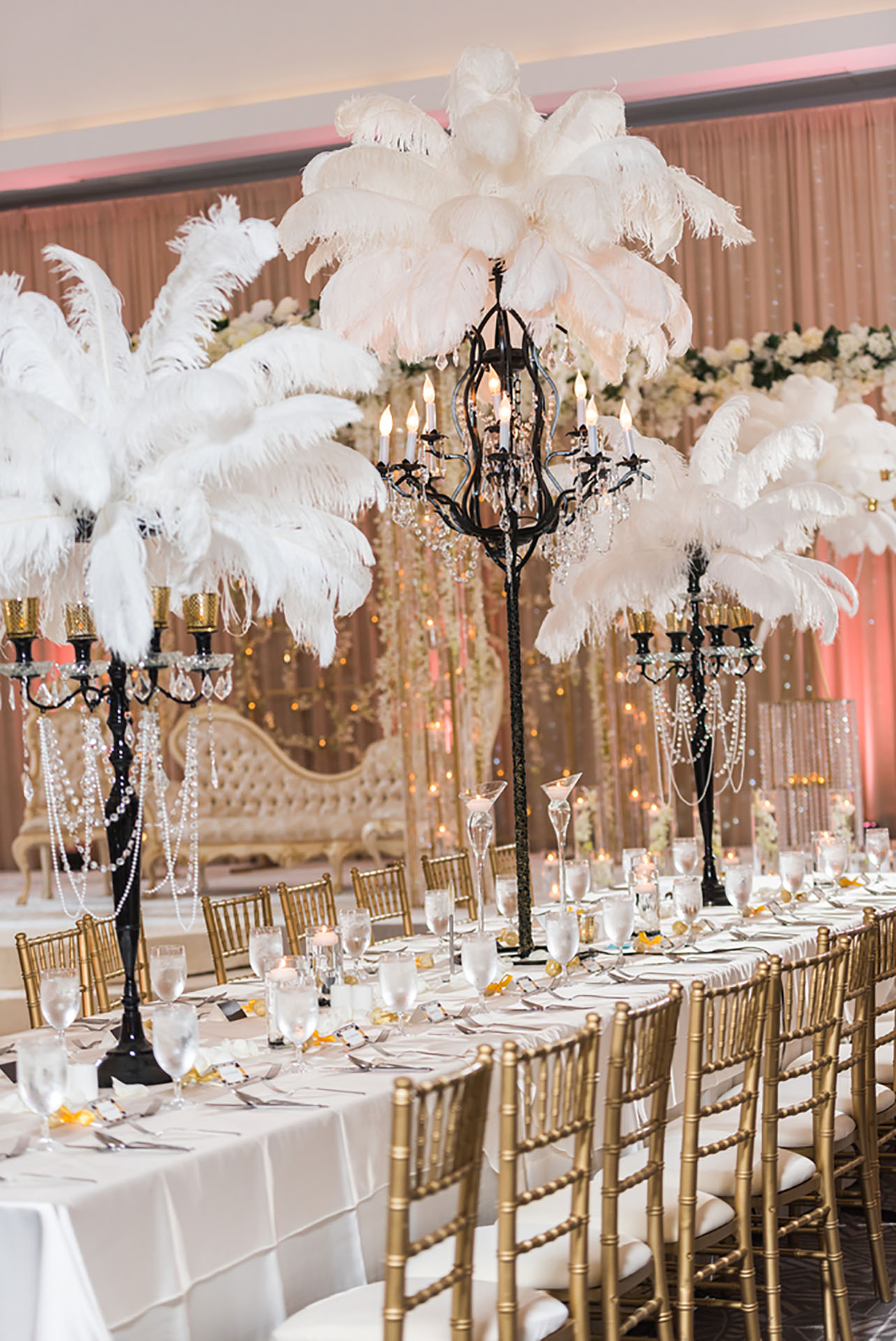 REAL LIFE 1920S WEDDINGS
Pinterest is always a rich source of wedding inspiration and for a 1920s wedding it's no different. Take a look at some real life 1920s wedding here: https://www.pinterest.co.uk/pin/422634746260435433/
If you're planning a 1920s wedding and you're looking for a wedding venue in Sheffield that can help you to achieve it, then look no further than the Double Tree by Hilton Sheffield Park where our expert wedding planners have all the 1920s wedding ideas and inspiration you need.
Further tips and ideas on creating a 1920s wedding can be found here:
https://www.messynessychic.com/2020/07/03/savour-the-date-with-post-pandemic-weddings-of-the-roaring-20s/
https://lady.co.uk/creating-1920s-wedding