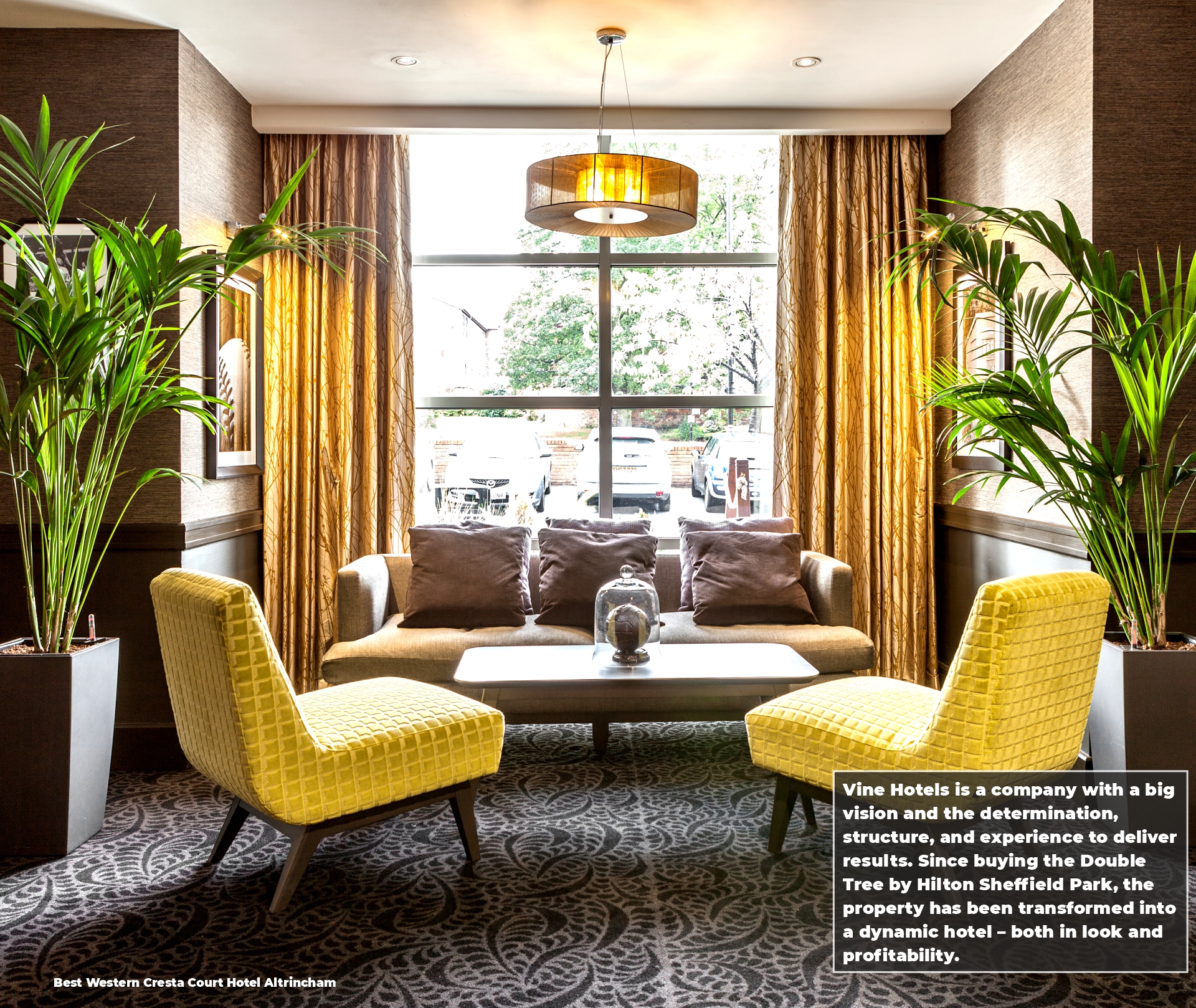 Vine Hotels
Vine Hotels is a leading-edge hotel management company. We specialise in multi-layered management solutions for branded and independent hotels and venues. In addition, we deliver a dynamic range of other services for hotel and venue owners, and other stakeholder groups.
Our team is made up of experienced hotel and venue operators, financial specialists, and sales and marketing leaders, headed up by –
•  Greg Dyke, Chairman - Former Director General of the BBC and the FA
•  Garin Davies, Chief Executive - Former Divisional Director of BDL Management and Board Director of Best Western
Working alongside hotel owners, property developers, local authorities, investors, and administration teams, our uniquely customisable service propositions deliver optimum profitability in many diverse scenarios.
We understand that a single solution or set of solutions doesn't fit all needs. So, we supply different bespoke services to meet different hotel, venue and stakeholder demands.
As Vine Hotels are hotel and venue owners and operators right across the UK, we have a deep insight into how to develop, manage and maximise the potential of a property. And by gaining a thorough and detailed understanding of the individual needs of business owners or custodians, we're equipped to purpose-design strategies that add significant value.
THE TEAM
Vine Hotels is led by a senior team of hospitality professionals with vast experience in their specialisms, combining their expertise to provide professional services built on dedication, knowhow and integrity.
---

Greg Dyke


Chairman

Previously chairman of the Football Association and the British Film Institute, Greg is a well-known media executive, journalist, broadcaster and former Director General of the BBC. He has held Chief Executive positions with LWT, Pearson Television and Channel 5 and was Chancellor of the University of York.

Greg has held hotel interests over a number of years and became chairman of Vine hotels in 2015.
---

Garin Davies


Chief Executive

Having served as Board Member of Best Western UK and a previous Divisional Director of BDL Management, Garin has a wealth of experience across all aspects of the hospitality industry.

Garin became a hotel owner in 2009, proactively increasing the portfolio ever since. He maintains close ties with Accor, Hilton, IHG & Best Western among others. These relationships serve our clients well when they decide to go down the franchising route.
---
Hotel specialists possessing over a century of combined experience in the hospitality industry, Vine Hotels support team ensures superior returns for all our owners.

Dan Wilson


Regional General Manager

Dan has been with Vine Hotels since July 2018 and has over 17 years of experience in brand and private hospitality properties.