Vine Hotel Management are one of the hospitality industries first choice when you need sales, marketing support or assistance via a management contract, new development, or a new hotel or venue opening. From sales research to face to face appointments, digital marketing solutions to pre and post marketing and sales plans, we are here to implement and deliver those all-important revenue results.
Vine Hotel Management have a specialised sales, marketing and revenue team covering every hotel or venue segment. GDS, digital online marketing, group and wholesale tour operator sales, leisure campaigns, reader and staff offers, corporate and conference sales are all provided by this experienced team. The skill set combined with years of experience and knowledge has provided clients with the support to deliver and maximise revenue generation.
The sales, marketing & revenue team have established working relationships with all the hotels brands, which means once in contract, we can pick up the phones to those key account managers to turn the taps of opportunity on with speed and efficiency.
Utilising Vine Hotel Managements experienced revenue teams will help to discover new revenue potential, whilst at the same time increasing the bottom line. This can be achieved for both independent and branded hotels
SALES & MARKETING SEGMENTS
Revenue management – Pricing, rate and image parity.
Preferred distribution management – OTA.
Dedicated GDS account management.
Centrally managed RFP and consortia programmes.
Yield management – Competitor rate reviews.
Sales call and conversion audits.
Social media development and management – Twitter, Facebook, etc.
On line "offer media" management – Groupon, Travelzoo, GLB, KGB, Woucher, Goodypass.com, etc.
Affiliate marketing programme.
Proactive and reactive public relations – Locally and nationally.
Readership offers and third party editorials.
Mystery sales calls.
Online subscriber database marketing.
Closed User Group (CUG) marketing programme – Circa 1.2 million.
Web representation and optimisation.
Dedicated CRO function – Voice and web.
National sales accounts management.
Preferred key booking agents account management.
Design and collateral development for both national and local advertising.
Digital download suite for E-Literature.
Monitoring of local corporate clients – Telesales campaigns.
Field based Sales Managers, by property, to represent the group.
Attendance of trade shows and exhibitions.
How we support revenue and sales delivery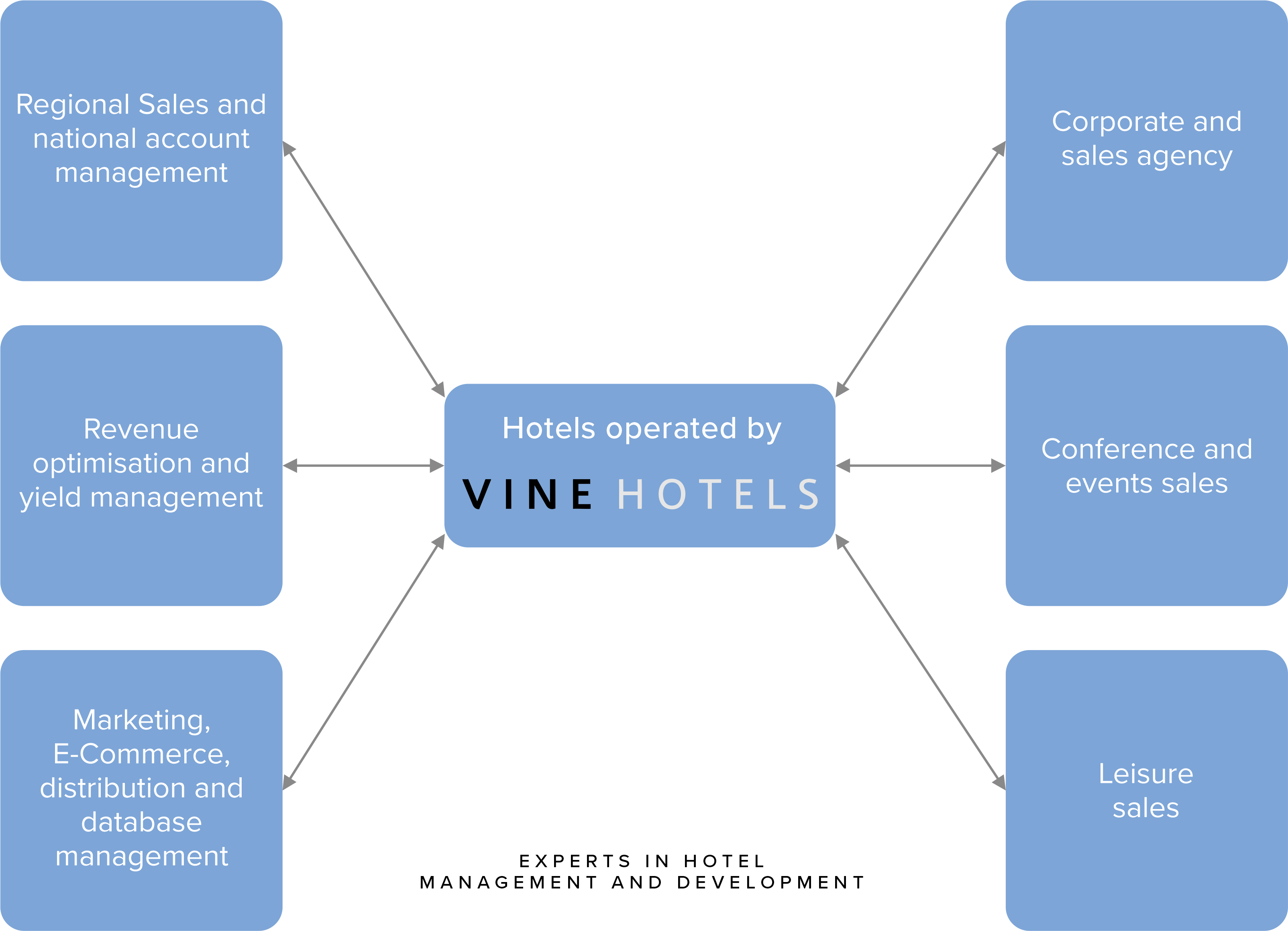 Click here to enlarge the chart
FOR AN INITIAL DISCUSSION on your Hotel's Sales and Marketing
---